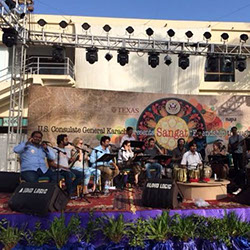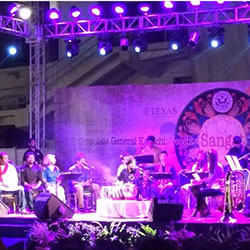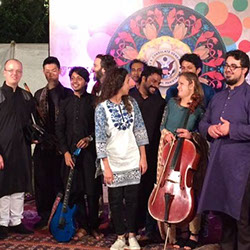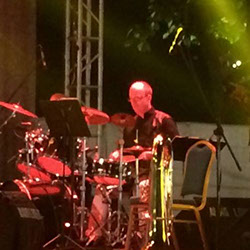 "Musica Senza Confini" is a co-composed work written by international sitarist Nafees Ahmed and composer Chris Ozley. It is broadly based in Kalyan Thaat—a raga featured in South Indian weddings—which is essentially equivalent to the Lydian mode in Western music. Between each section of music, the melodic mode, meter, and tempo tends to fluxuate frequently. Originally, the piece existed without Western harmony; Chris provided full harmonic realizations as well as orchestrations for the ensemble "Sangat." The work was premiered in at UT Austin's Jessen Recital Hall in November of 2015; additionally, it has received numerous performances in Karachi, Pakistan—notably at the National Academy of Performing Arts
Sangat is a multi-cultural and transnational collaborative music ensemble comprised of members from National Academy of Performing Arts (NAPA) in Karachi, Pakistan, and the Butler School of Music (BSOM) at the University of Texas at Austin. This collaboration has been sponsored by funds from the U.S. Department of State and made possible with the help and support of faculty and staff at National Academy of Performing Arts, Butler School of Music, and South Asia Institute at UT-Austin.
Click here to read more about the project and Sangat Music!

KARACHI: Shakespeare said it best `If music be the food of love, play on.
And the concert titled `Sangat` took this thought forward at the Beach Luxury Hotel on Thursday where a stellar ensemble comprising musicians from across borders came together as one ...